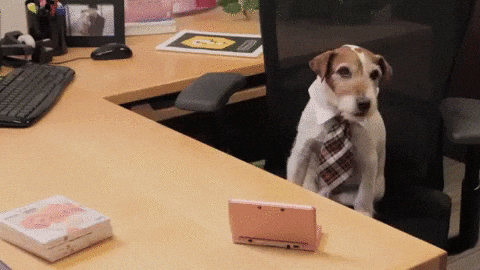 If the idea of "humor at work" makes you shake your head, you're not alone. A lot of people feel that professionalism and humor are mutually exclusive. In fact, we're trained from the first time we enter a work setting that humor is something that derails productivity. And since work is all about productivity productivity productivity, humor ends up being checked at the door.
However… science says humor can be incredibly positive in the workplace. In truth, humor makes life in general — work included — so much better and it makes people – bosses included – trust us more.
Robert Half International and Hodge-Cronin & Associates found 98% of surveyed executive leaders preferred employees with a sense of humor. 84% believed employees with a sense of humor do better work. There's a positive peer-to-peer effect too — humor can make our peers more likely to attribute higher status to us and to vote us into leadership roles.
It goes further than that though. As long as it's regarded as appropriate, humor that people laugh out loud at increases others' perceptions of our confidence and has no meaningful impact on status or competence.
And it doesn't even matter if you find yourself funny. Researcher Wayne Decker found that, regardless of whether they themselves felt funny, managers with a sense of humor were rated as 23% more respected, 25% more pleasant, and 17% friendlier.
Leaving aside others' perceptions of you, there are intrinsic benefits as well. If you've worked through some of the activities on humor at work in Pique, you probably already know that humor even improves problem-solving more than traditional brainstorming!
So, clearly, there's data to back up the idea that humor, when done well, can be hugely beneficial at work. If you're nervous or doubtful, here are some more low-stakes ways that you can add levity into work:
Add a GIF from a well-known TV show or pop culture reference into an email, event, or slide
Tell a humorous story to start a presentation
Start your somewhat awkward team meeting by answering silly, quick this-or-that style questions at the beginning (like "Would you rather fight 100 chicken-sized dinosaurs or a really angry archeologist")
Put your favorite comic strip at your desk
Host an office trivia session for employee bonding
Create a March Madness-style bracket of snacks for people to vote on for the entire month of March and then bring the winner for everyone to enjoy at the end
Ask colleagues in passing if they saw a TV show or movie you liked and hear their thoughts
To learn more about humor in the workplace, complete Humor, Seriously in Pique.